The name of the town comes from the famous Beale Camel Expedition. Lieutenant "Ned" Beale stopped at the spring here in 1857 and named it Truxton in honor of either his brother Truxton or his mother, Emily Truxton Beale. Encircled by colorful and scenic terrain, this small community's roots stretch back to the Beale Wagon Trail.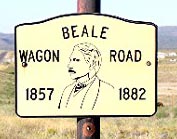 In 1857 Lieutenant Edward Fitzgerald Beale was assigned the task of establishing a wagon route along the 35th parallel across New Mexico and Arizona. He followed the path mapped out by Lt. Amiel Whipple in 1853 for potential railroad routes across the newly acquired western territories. West of Flagstaff, Beale diverted a bit north from Whipple's route and went through Peach Springs.
Years later, in 1883, the railroad followed with a water stop for its engines that became known as Truxton Station.
Around 1950, plans were underway to build a new dam in the lower Colorado River, with the junction near Truxton. In anticipation of the traffic, Donald Dilts opened the Truxton Cafe and Clyde McCune built a service station across the street. This was the official beginning of the town of Truxton. However, plans for the dam were abandoned and the town maintained itself from travelers passing through on Route 66.
When Interstate 40 was build, Truxton became a mere shell of the town it once was. The old Truxton cafe was closed, and hasn't served the traveler in quite awhile. The Indian School at Truxton has been long abandoned but there appeared to be renovation work being done to the old building.
Today, there is a small flurry of activity as the Historic Route 66 brings in tourists from all over. Truxton, Arizona is located on the longest single stretch of old Route 66 still remaining today. From Ash Fork to the Colorado River you can drive over 150 miles on the Mother Road.