Hackberry is on the longest continuous section of the original Route 66 in the nation and as Route 66 was built, Hackberry became quite a stopping place. It became the symbol of American momentum. Everyone's family traveled it.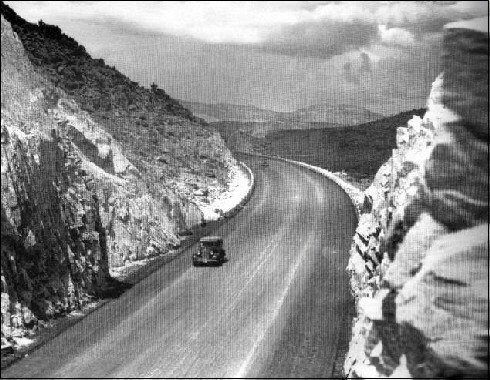 The highway that runs through Hackberry acquired its name and number of Route 66 in 1926. At that point, only 800 of its 2,400 miles were paved. By 1937 a concrete and asphalt U.S. Highway 66 took travelers from Chicago southwest to the west coast. Progress was coming as you can see by this picture.
That section was bypassed by Interstate 40 in 1978 and this section of Route 66 went from highway into legend in the same way that the land it led to, the American West, has gone from region to legend. There are still a few old buildings including the Hackberry General Store, the post office and a few homes where a small number of residents still live.
A mine discovered in 1874 in Mojave County, started this town and in those early years there was plenty of cowboys for fighting and faro. Unlike the many places that became towns along the Oregon Trail, and the Santa Fe Trail of long ago, Route 66 is a more modern trail across the USA, and maybe it's last of a kind. The railroad reached Hackberry in 1882, and shipments of cattle began. Hackberry became an very important debarkation point. At its peak it shipped the third largest number of cattle from Arizona.